Consultancy
EAF fume gas evacuation system
KE INNOVATIVE OFF-GAS SYSTEM
TYPICAL GENERAL ARRANGEMENT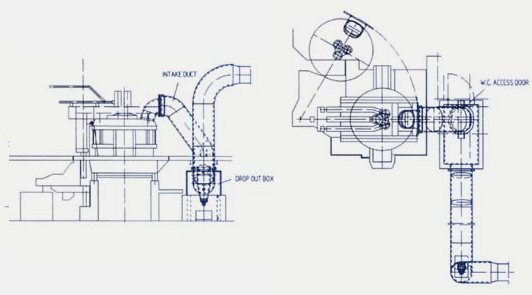 TAKE BENEFIT OF OUR PROVEN ARRANGEMENT AS FOLLOWS:
COST MINIMIZING FOR MAINTENANCE
NO SLAG / DUST BUILT UP
NO CLEANING OF FOLLOWING DUCT WORK REQUIRED
HIGH POST COMBUSTION OF CARBON MONOXIDE
EXTREME REDUCTION OF DUST LOAD TO THE GAS CLEANING SYSTEM INCL. SPARK ARRESTMENT
EASY ACCESS AND HANDLING FOR DUST / SLAG REMOVAL INSIDE OF DROP OUT BOX
COST SAVINGS - HIGHER PRODUCTIVITY
The enviromental demands of EAF steel plants have changed drastically over the past. The increasing controls placed on pollution control by Federal, State and Local authorities, no new EAF are being installed without complete fume control Equipment.
The Direct Evacuation Control System combined with a canopy hood is presently state of the art technique.
The use of high powered EAF´s and various melting techniques involving foaming slag practise, injection of coal and additional alloys, high amount of oxygen share significantly in the capture device selection and ulimate off gas volume determination. Kaercher Engineering presenting an approved off gas system for the all day practice.
As mentioned before the extensive use of oxygen, burner installations and melting practice requires an off gas system that should scope with the overall demands of economic stell making. Maintenance in that area should be minimized as far as possible.
The system consists of the fume gas water cooled intake duct incl. sliding sleeve for setting the gap between furnace elbow and fixed duct to maintain the amount of necessary ingress aor for CO post-combustion.
At the floor level a combined drop out box-combustion chamber will be arranged at a separate concrete foundation. The size of the chamber has to be determined with regards to the fume gas volume and special local conditions. A water cooled door at the front side allows easy acces by bob cat to remove the accumulated deposits. Depending on the gas temperature at inlet uncooled duct work the following water cooled duct has to be calculated regarding diameter and total lenght with optimized gas velocities to avoind duct deposits.
This innovative concept of a new DEC off gas system has been successfully installed at the following steel plants:
Gerdau Cosigua, Brazil
Dragon Steel, Taiwan
Yehuda Steel, Israel
Gerdau Aza Colina, Chile
Benteler AG, Work Lingen, Germany
Pacific Steel, New Zealand
Southern Steel Berhad, Malaysia
Krupp VDM, Unna, Germany
Deutsche Edelstahlwerke, Siegen, Germany
SCAW METALS, South Africa
KISCO, Korea
ALZ, Belgium
AMSTEEL MILLS, Malaysia
TUNG HO, Taiwan